(With apologies to Tim Daugherty*)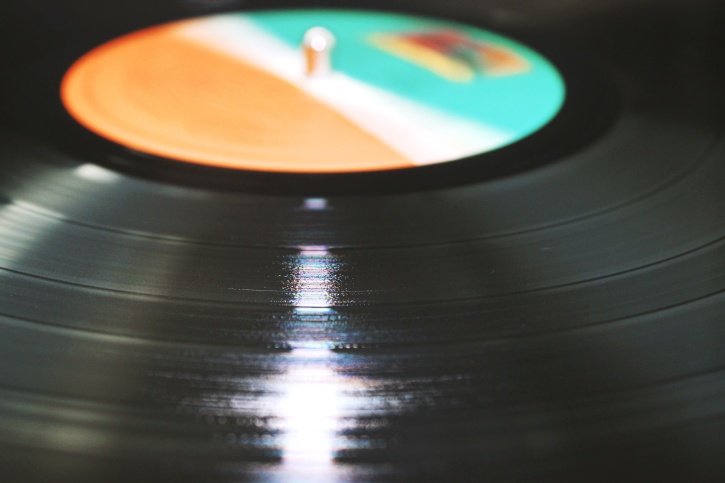 Growing up, all I knew knew of music was vinyl. My mother had one of those big console stereos from the 1960s. Unfortunately for me, she played Eddie Arnold, Elvis, Loretta Lynn, and Johnny Cash over. And over. And over. But when I received my first real album, the Saturday Night Fever soundtrack, I discovered how good that console really was. And then I got Blondie. And I got Pat Benatar. I tried to get my mother to buy me Led Zeppelin, but apparently that was devil music. Somehow, I scored KISS Rock and Roll Over.
By the time I graduated high school, all the stylin' music buffs had boom boxes. Which meant we listened to cassette. And I went up to my grandmother's to listen to my uncle's rather elaborate sound system to listen to his cassettes. Tom Petty, Rolling Stones, Frampton Comes Alive. I started to move away from vinyl. Besides, cars had cassette decks. The older ones I owned I used the boom box. And so, throughout the nineties, various cars I owned ate the entire Led Zeppelin collection several times over. But at home, I'd moved onto CDs. And then came iTunes and the iPod, which at one point was my most prized possession. And then came streaming.
But until lossless streaming came about, digital lacked something. Cassettes hissed and would get watery sounding over time. CDs could be bright and clear in a way cassettes couldn't, but the chords and harmonies didn't blend as well. MP3s, because of the compression, took much of the power out of the music. iTunes, and MP4s, put some of it back in, but it was still compressed sound files.
You'd think the Great Tom Waits Love Fest of the mid-2000s would have convinced me to come back to vinyl. A writer bud raved about how great Waits sounded on vinyl. Another friend from church waxed rhapsodic about listening to Miles and Coltrane on vinyl. And a coworker refused to listen to anything at home except vinyl, though I've heard him tell Alexa to play certain lists.
And then the Pint-Sized Miracle who is my wife overheard me say, "It'd be kind of cool to have a turntable." That Christmas, I found a cheap Crosley under the tree with a stack of records. She and my stepson Matt made some good guesses as to what I liked. I was particularly happy to see Billy Joel's Glass Houses, ZZ Top's de Guello, and Blondie's Eat to the Beat. Does my wife love me or what? I plugged the thing into my computer, found a sound package I liked, and went to town. Over the ensuing months, I played around with various speaker arrangements, even letting the Crosley play through its own built-in speakers. It's a work in progress, and I've warned my wife it will never be finished.
But I've also developed an addiction. I immediately went to Metamodern Music, where the Mrs. bought my starter collection. I returned to Cincinnati's Everybody's Records for the first time in about 20 years. They're booming now! Even after the pandemic. During the family trip to San Francisco in 2019, I even made the pilgrimage to Haight-Ashbury (only after my third visit to the city) and found Amoeba Music, where I bought vinyl. I even used my Amazon Prime account to quench my addiction.
More recently, I found Earworm Music in nearby Milford, where not only have I dropped more money than I should have, so has my wife, who loads up on $50 worth of country CDs every trip. So why would I go back to a format that I used to complain sounded like Rice Krispies set to heavy metal after three plays?
Well, in the eighties, LPs were pressed on flimsy cheap vinyl. Leave it in the car too long bringing it home, and they warp. If you have a cheap turntable (I mean really cheap), they skip or slide after a few plays. Today? Well, some of the used records are still on that cheap vinyl. That's what happens when you buy used records. Yet most new records are on 180g vinyl, which have a bit of heft to them. I also bought some old Tony Bennett and Ella Fitzgerald. Ella's album was pressed in the fifties. If you remember 78s, you might be forgiven to think her album was in that format.
So what are my favorites?
*Yes, Tim, if you're reading this, it's Mike Rose's cousin from Burbank. Or rather Cincinnati.